a CAREER as a VET?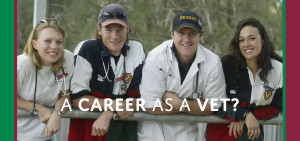 Are you interest in advancing the health, welfare and production of Australian animals?  
If so, you may be interested in a career as a vet!
Read more here…
There is an incredible diversity of career opportunities for veterinary graduates. This university degree caters for people with passions for helping animals – domestic, wild, exotic; helping people; improving the viability of rural industries; innovation and research; and business. Australian veterinary graduates are employed all over the world in a large variety of roles. The veterinary degree gives participants a unique approach to problem solving which remains with them irrespective of their employment.
In particular, it is exciting, challenging and rewarding for veterinarians working in rural practice which requires the young graduate to develop and hone a range of skills, from treating family pets and working dogs to the physical demanding role of cattle and horse reproductive work. Rural practice provides young graduates with a unique opportunity to become a respected member of a rural community, develop strong friendships with clients and colleagues and make a significant contribution to the clients livelihood and income.